Kenya: Apostles of Jesus Institute – Vatican Permission to Admit New Members
"Considering the efforts made so far concerning formation, this Dicastery (CICLSAL) shares the opinion expressed in your request to revoke the provision prohibiting the admission of new members to the novitiate and religious profession, both temporary and perpetual, and to Holy Orders," Fr. Wokorach a member of the Comboni Missionaries of the Heart of Jesus (MCCJ) who is heading the Pontifical Commissariat reads an excerpt of the letter from Vatican.
"Therefore, with this letter, we revoke the prohibition to admit new members to the novitiate, and to temporary and perpetual religious profession, and to Holy Orders," adds the message from the Prefect and Secretary to the Vatican-based Dicastery respectively.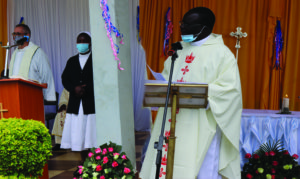 Fr. Wokorach-led Pontifical Commissariat was instituted in 2018 comprising of two Pontifical Assistants; Sr. Jacinta Auma Opondo a member of the Franciscan Sisters of St. Anna (FSSA) and Fr. Angelo Bettelli a member of Canossian Sons of Charity (FdCC) and the Secretary to the Pontifical Commissariat, Sr. Eugenia Campara a member of Daughters of Saint Paul (fsp), a team that was mandated by the Holy See to oversee the process of internal reforms and re-organization of the life of the members and of the Institute.
Source: AMECEA